Henry Cavanaugh
Blaine Gibson was surprised when he was offered a sponsorship with the Brannendorf brand in order to promote their new range of Muscle Meals, but it was an opportunity he was quick to accept.
When he'd joined Rooster Teeth as an intern all those years ago he'd had no intentions of chasing fame but there was no denying that he had become something of an internet celebrity and was even starting to get recognised by folks who had no idea what Rooster Teeth even was. Supposedly he'd gone viral on 'Gay Tumblr' and while Blaine himself was straight, he appreciated that the hard work he put into sculpting his body to its muscular proportions wasn't being overlooked. Sure, every now and then there would be a fan who went a little too far with their comments or even got too handsy at a meet-and-greet event, but on the whole Blaine was rather enjoying his unexpected celebrity status and a sponsorship felt like a logical next step in raising his profile. Rooster Teeth paid well enough but he wasn't going to say no to a little more income when it was being offered to him!
The sponsorship deal was pretty simple in actuality. All he had to do was mention them on his Instagram story every few days along with a special discount code and they'd send him pre-prepped meals to help him meet his fitness goals. The high-protein meals they sent were pretty darn nice too and having them ready-made and waiting for him when he got home from the Rooster Teeth offices made everything so much easier. He had always been bad at managing his time and between the long hours at work and his near-obsessive need to work out for at least ninety minutes every day, he often didn't have much time to cook his own meals which meant his diet wasn't always as on point as it could be. With Brannendorf's Muscle Meals though all of that extra worry was gone and as such his recommendations for their service were more genuine than the everyday advertisement. Anything to make healthy living a little easier!
As the summer days continued to roll on though, Blaine started to notice that the meals he was being delivered were changing slightly. With each passing week they consisted of more calories and the carb-to-protein ratio was increasing, which from his previous experience wasn't what he was aiming for. He'd even reached out to Brannendorf to query whether he was receiving the meals intended for one of their other sponsors - there were a number of NFL, NBA and NHL players all contracted with the company, which made Blaine's inclusion even more surprising - and they ensured they would double check before sending out the next batch. Still, when they arrived, the calorie count was just as high as with the previous arrivals.
Despite knowing that the meals weren't properly tailored towards his goal of leaning out while still putting on muscle mass and were even counterproductive to those goals, Blaine couldn't seem to stop himself from eating the meals like clockwork. They were the best tasting meals he had consumed in a long time - even something as plain as chicken and rice seemed to come alive with a myriad of flavours to excite his taste buds. Sure, at the end of each day he felt a little bit fuller but he was also managing to lift even heavier than ever before during his weightlifting sessions and recording new personal bests made any fitness enthusiast happy. Breaking records was like a drug to guys like him; he couldn't get enough!
Within a few weeks of the change in his meals though, Blaine was really beginning to notice the difference in his body. All of his clothes were fitting a little tighter around his body and his waist in particular wasn't quite as slim as it had been before - he'd had to give up on wearing anything other than sweatpants! With the added bulk padding out his still muscle-bound frame, he had begun posting older pictures of his more shredded appearance to his social media accounts while getting back in contact with Brannendorf to insist they were still sending him the wrong meals. He received an apologetic email in response with the promise to rectify the mistake and get him back on track with meals that were in line with the macros he had given them upon signing his sponsorship deal, although given that was the same response they had given to him previously, he wasn't confident there would be any change. No, the emphasis had to be on him to stop indulging on the meals, no matter how tasty they were and how loudly his stomach rumbled when he attempted to limit the intake per meal.
Still, that was much easier said than done, as the following few days proved. Try as he might, he devoured each and every meal like a man who had been starved for a century and had even begun belching loudly and patting his rapidly rounding stomach after each meal. It was behaviour so unlike himself and yet he simply couldn't stop…
As a professional football player it wasn't completely unheard of for a guy like Richie Incognito to get a sponsorship deal, but given he had a reputation for being something of a trash-talking and poorly-mannered brute of a man, he was still a little surprised by the deal offered to him. He hadn't heard of Brannendorf or their Muscle Meals before but they offered a fair amount of coin for pretty minimal work and his closest buds assured him that it was a good idea, so he had signed on the dotted line without much deliberation. Get paid to eat meals and put videos of them on social media? Yeah, he could do that with no problem!
With training camps getting underway for the upcoming football season, Richie had informed the folks at Brannendorf that it was essential that he up his calorie intake so that he could be a nightmare for any offensive line he came up against. He knew that there were a lot of puny guys who were afraid of getting crushed under his mass and honestly Richie loved that he cut such an intimidating figure out on the field. Football wasn't a sport for pansies, after all, and some of the newer guys could be so soft and sensitive! Smashing them to bits with his three-hundred and twenty-five pound frame was guaranteed to weed out the weaklings from the sport and he took that as a point of personal pride.
The meals being delivered right to his doorstep were actually pretty nice too and Richie enjoyed the variety of snacks each box included too. There was plenty to keep him going through the highly physical training days and some extra just to ensure his satisfaction in the evenings. After a few weeks though, the meals seemed to dwindle in portion sizes though. At first he thought that he must be imagining things - why would Brannendorf change up the meals they were sending when they'd been doing such a good job - but after a few weeks of Richie taking note of the calories and macros of each meal, it became clear that his meals were less calorie-dense and heavier on the protein. The change-up irritated Richie for sure and he made his displeasure clear over a phone call to some company intern who could barely squeak out a single word in response, but truthfully Richie didn't actually feel hungry like he expected to when he finished the smaller meals being delivered to him. Despite being three-quarters and then half the size of the meals he was used to, they were just as filling. How was that possible?
Richie wasn't the kind of guy who took much notice of what he looked like in the mirror - he was no pretty boy and he was damn proud of that - so it wasn't until his sweatpants started sagging that he noticed his waistline was actually slimming down. His proud gut wasn't quite so pronounced anymore, his sagging pecs also felt firmer to the touch and his arms didn't wobble quite so much when he moved them. Now that he'd noticed it, it seemed impossible to ignore that he had dropped some forty pounds in total in just a few weeks. He wasn't some fitness expert but that amount of weight loss in such a short span of time seemed highly improbable and even dangerous, yet he felt more energetic than ever. There was a spring to his step in practice and his teammates were even commenting on how good he looked; he'd only reply by asking with a sneer if they were "going homo on him". Even the coaches had taken notice and were joking that they'd have to train him for a new position if he continued to replace his soft bulk with hard muscle!
After two months of promoting the Muscle Meals and a month of eating his reduced meals, Richie was relieved to receive a phone call from a Brannendorf representative. They weren't contacting to remedy the mistakes they were evidently making with their deliveries though, but rather to communicate that they were changing up the discount code they wanted him to share on his social media pages. The new code would be ROOSTER and, although Richie questioned what the relevance of it was given it seemed like a random change from his previous more topical discount code of FOOTBALL, he got no response other than the rep insisting that he use the new code on all of his future posts. Deciding that there was no point in pushing the matter since he didn't really care all that much, Richie agreed without further argument.
More and more of the athlete's time was actually being spent on social media and his profiles were growing in popularity as he began posting pictures of his fitness journey. He was down to two-hundred and sixty pounds and while he maintained some softness about him, his build had taken on a more muscular shape and his workouts were beginning to reflect as such. He was putting more thought into exercises that would help him sculpt his biceps into perfect mountains, or give him a nice backside that would really stand out when he wore his football tights! Richie couldn't explain why he had started to care so much about his image, but he undeniably felt good when he glanced into the mirror and saw a more classically desirable man, his double-chins and fat rolls a thing of the past. Maybe taking care of his image wasn't just for poofs and fairies after all…
Blaine was sure as hell glad that Rooster Teeth was allowing its employees to work from home because he knew for a fact that if any of his coworkers saw him in his current state they would ask what had caused him to fall off the wagon! The muscles he had proudly become best known for had relaxed into a much softer, rounder and heavier physique, to such an extent that he had been forced to order a new collection of clothes in the XXL size rather than the Mediums he had always worn. He'd added seventy pounds of fat to his body since the changing of his meals and with every few days only seemed to acquire more and more. He still did everything within his power to try and limit his eating but if he went even a few hours without just a snack his stomach would growl like an animal and he'd always cave in to the desires before long.
Despite contacting Brannendorf multiple times, Blaine had received no help from them despite expressing just how extreme his physical changes had become. In fact the only thing they had actually been concerned about was making sure he was sharing his new sponsorship code with his followers - it had been changed to FOOTBALL for some reason - rather than the outdated code they informed him was no longer linked to his account. The sponsorship had indeed been coating his savings account quite nicely and although it perhaps would have been in Blaine's aesthetic interest to cancel the deal, he simply couldn't bring himself to. Besides, there was even a part of him that was actually beginning to like the extra weight he carried around with him and he felt nothing short of godly every time he deadlift a weight that would have caused him to pull his back out just a few months prior.
A text from Chris, one of his office-mates at Rooster Teeth, inquiring as to whether he was okay had prompted a ripple of irritation through Blaine, although he wasn't quite sure why. "Yeh, y wouldn't I b?" he had replied, although with thicker digits it had taken him a little longer than usual to type out. Chris' response didn't make him feel any easier though: "You've missed a bunch of work meetings and don't take this the wrong way but the scripts you've been sending in are kind of… bad. Plus you've been kind of snappy with people over text lately. I'm just being a concerned friend. If you need to talk then I'm here." That was typical Chris, so… sensitive. It had never really bothered Blaine before but when he was the subject of the other's concerns that was no longer the case; it actually pissed him off. Why couldn't Chris just mind his own fucking business?
Once he had communicated as such in his short text reply, Blaine decided to put himself at ease with a cheat meal. Thankfully Brannendorf had supplied him with some in their most recent delivery - a triple-stack cheeseburger and loaded fries sounded absolutely perfect for that moment! His short conversation with Chris had worked him up into such a mood that he didn't even care when he spilled some of the ketchup onto his clean shirt, it wasn't as if anybody was going to see him and even if anybody was, he no longer felt any compulsion to please them with his appearance. His body, his rules!
Sure, maybe Blaine had found it increasingly difficult to actually focus on his work for Rooster Teeth and was instead spending a lot more time on his couch watching ESPN, but he didn't need people breathing down his neck about it. All the Rooster Teeth content was about video games and Star Wars and other nerdy stuff like that and Blaine's interest in it all was waning. Football season was almost back after all so how could anybody expect him to care about anything else, especially a bunch of stuff that the losers he'd bullied in high school had beat their meat too. In the back of his mind Blaine knew that memory was false - he hadn't been a bully in high school and had in fact been in the nerdy crowd himself - but it was overwhelmed by a casual acceptance instead, as if it made sense for him to have pushed nerds into lockers and given them swirlies rather than being the victim of those same things. Besides, he felt confident in the knowledge that the only video games he could even remember spending any amount of time playing were the Madden NFL games anyway...
Richie had abs. He had to have fallen into some bizarro alternate universe at some point because the mere prospect of Richie Incognito having a full washboard six-pack was ridiculous, and yet as he brushed a hand over the cobblestone muscles there was no denying their existence. With just a simple change in his eating patterns he was down to two-hundred pounds of firm muscle and he felt all the better for shedding the extra one-hundred-and-twenty-five pounds of softness that he had been sporting for the entirety of his professional career. It was true that he had become something of a selfie addict and his social media channels were filled with people amazed by his physical transformation, remarking that they hardly recognised him. It felt good to receive so much positive attention and he was actively starting to crave it.
Not everybody was so pleased for him though: the team coaches weren't thrilled with the fact that their prize offensive guard was now almost pound-for-pound the same weight as the quarterback he was supposed to be protecting. Richie knew all too well that the weight loss would be detrimental to his position on the team but there was a strange voice whispering in the back of his mind that was slowly convincing him that maybe football wasn't everything, that maybe he'd have more fun doing something else. Truthfully he'd spent most of his evenings after practice on the sofa either playing video games or binging all the sci-fi films he'd missed in cinemas, activities he'd previously considered a waste of time when he could be learning from reruns of old football games or tapes from that day's training.
There was no doubt in Richie's mind that he previously would have been irritated - if not outright disgusted - with the amount of gay men who had started to follow him on Instagram and comment with eggplant emojis on the abundance of shirtless pics he had started to upload on a near daily basis, but his reaction was actually much more muted. While he was beyond comfortable in his heterosexuality, he no longer saw any harm in having his body appreciated by other men, in fact it even filled him with a sense of pride to know that all of the hard work he put into rehabbing his image wasn't going unnoticed.
At the four month mark of the sponsorship deal Richie received another message from the rep at Brannendorf to enquire as to his satisfaction with the product they had him promoting. His initial frustration with the changing of his meals had long since faded and considering the benefits that had come as a result, he was more than willing to let the past go and accept that everything was going well, which he expressed as much to the rep. "Happier and healthier than ever, my man," the athlete confirmed, his eyes locked on his reflection. "Keep the meals coming and I'll keep singing their praises!"
"Well I'm darn happy to hear that," the rep responded in a sing-song voice. "I also wanted to talk to you about our upcoming sponsors gathering where we get all of you together to do some video diaries, complete a weigh-in and network. Would you be up for that, sir?" It was the kind of offer that Richie previously would have turned down without second thought - he wasn't exactly the "networking" type - but he felt strangely excited by the idea, so he quickly confirmed his attendance and made sure to get down all the details. He'd have to take a few days out of training camp but considering he wasn't exactly doing all that much at the minute he figured that the coaches wouldn't be too terribly upset about that!
The Brannendorf sponsorship event rolled around in no time at all. It was taking place in San Diego and Richie had a nearly five hour drive in his pick-up truck either way but he was so hyped for it that he didn't even mind leaving his Vegas resident at five in the morning. All the extra energy he'd had since changing up his diet certainly paid off in that circumstance at the very least, and the drive seemed to fly by as he happily sang along to chart music he couldn't even remember actually hearing before. He was normally more of a hard rock kinda guy but he was all of a sudden strangely okay with the string of generic dance tunes playing on the radio, even nodding his head along to them.
When he'd reached the designated location there were already a number of other athletes already gathered there and Richie was pleased to see that with his new trimmer physique he fit right in with the rest of the gathered crowd. There were a few bigger guys there too, including one who caught the football player's eye almost immediately. He had been scanning the crowd to take in all of the different faces when he thought he'd seen his own face among them, only he knew that couldn't be possible. As he fixed his attention back on the individual though, Richie couldn't help but note a number of similarities to his former appearance. He was one of the more heavily built guys there - probably over three-hundred pounds at least - with a round face and beady eyes. Considering his size and the similarity of his features, he easily could have been mistaken at a distance for the Richie of the previous football season.
One of the strangest things about Richie's recent weight loss though was how it had affected his face, with a subtle changing in his features: his nostrils had widened by a few centimetres and his lips plumped up, while blond stubble began growing across his more square-shaped jawline. Multiple teammates had remarked that it made him look like a completely different man, but all of the changes had happened so slowly and subtly that Richie had hardly even taken notice of just how much he had changed until he was greeted by a near identical copy of his former features, as if it had been plucked right out of his memory and pasted onto another man.
His staring hadn't gone unnoticed though and the other man had started making his way towards Richie, who was surprised at the slight sense of intimidation he felt. He had always been one of the biggest guys in any situation but this behemoth dwarfed him and there was a near-permanent sneer stitched onto his features that made him appear unapproachable. Richie supposed he could now understand why so many people had considered that about him in the past, although recently they had been all too happy to tell him what a great guy he was. He hadn't made any conscious efforts to change his attitude, but then he hadn't consciously or willingly changed up his diet either. He was just rolling with what was given to him and it was working surprisingly well for him.
Once the other man was within a few feet of Richie, he spoke in a bassy voice: "Couldn't help but notice you staring over at me, man. You wanna tell me why?" There was an accusing tone to the words and his eyes were narrowed in suspicion, putting the slimmed down offensive guard on the spot.
"Anybody ever told you that you look like Richie Incognito?" he retorted, finishing with a nervous chuckle that was so unlike his usual confidence.
For a moment the other looked utterly perplexed and even wide-eyed in fear before his features relaxed back into that arrogant sneer. Then, the beast of a man let out a booming laugh, drawing eyes towards the pair of them. "Well duh, considering I am Richie Incognito." He clapped a heavy hand down on the real Richie's shoulder, who could do nothing but wince at the other man's superior strength.
"That's… cool," came his response, even though it hadn't been what he wanted to say. He'd been attempting to insist that he was actually Richie Incognito, but that no longer seemed correct. In fact it felt embarrassing to even suggest as such when the man in front of him was quite obviously the football player in question, which meant that he had to be somebody else. "I'm…" he started, only to trail off. He sought through his memories quickly, suddenly at a loss for his own name. What the hell was it?
"Blaine, right?" the bigger man grunted. "Blaine Gibson. You were on Brannendorf's latest Instagram post. They like showing off all the pretty boys that eat their meals." That was right! Blaine could vividly remember being delighted when the brand had shared one of his post-workout selfies that showed off all of his hard-earned muscles. His follower count had seen an immediate increase! Still, he was pretty surprised that a famous football player actually recognised him by name. That was pretty darn wild.
Before their conversation could continue, the Brannendorf rep in charge summoned all of their clients into a group to go over the agenda for the day. Various sponsors were paired off together and as chance would have it, Blaine and Richie were together for a weigh-in, photoshoot and interview. It seemed like an odd pairing and Blaine had to admit that he wasn't thrilled about it either, considering the other was somewhat unwelcoming towards him, although he had no idea what he had done to deserve such treatment. He did his best not to fixate on it though; Blaine had learned a long time ago that some people were just sour and not worth wasting energy on. Besides, it wasn't as if he liked football all that much anyway so why should he care what some overpaid meathead thought of him?
Once the day's events were over and both men had signed a contract extension with Brannendorf, Richie returned to his beat-up truck and fired up the engine. He was relieved to hear the hard rock blasting from the radio - there had been too much generic dance trash being played all day and it had been clear from just the music choice that it really wasn't his kind of scene. He was pretty sure some of the guys had been a bit on the fruity side too so he was happy to be getting out of there and back to where the real men were. Training camp was calling and he couldn't wait to burn off some of that anger by slamming his entire three-hundred and twenty-five pound frame into the poor suckers on the opposing defensive line. There was absolutely nothing better than football season!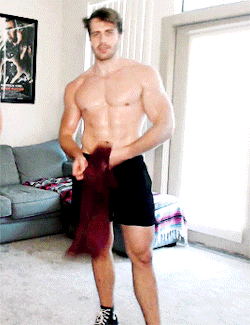 Blaine, meanwhile, made his way to the sleek red sports car he had spent much of the last few years saving up for. It was going to be a long drive from San Diego back to Austin, but the folks at Rooster Teeth had been kind enough to give him a few days off so he could at least rest up before heading back into the office to get started on the next project. They were nice folks like that, and besides, his little trip had given him a brand new idea to work on. It was strange, but he had a sudden compulsion to write a comedy skit about a body swap, maybe between himself and a jumbo-sized football player…